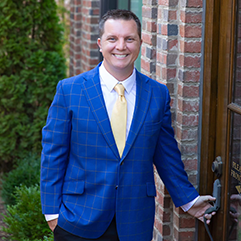 Aaron K. McCullough
Attorney at Law
Aaron Kenneth McCullough is an attorney with the Harding Law Firm in Griffin, Georgia. He is both a Georgia native growing up in metro Atlanta and has been an active member of the Georgia Bar since 2013, graduating from Atlanta's John Marchall Law School. Before becoming an attorney, Aaron worked as a paralegal with his certification from Emory University.
He is admitted as a member to the Supreme Court of Georgia, Court of Appeals for Georgia, Nothern District of Georgia, Middle District of Georgia, Superior Courts, Juvenile Courts, and Probate Courts. Areas of focus include almost all forms of civil and criminal litigation, as well as tax foreclosures, domestic and family disputes, and all forms of estate planning and the probate of estates.
Aside from his professional career, Aaron commits his time to his family, volunteer work with youth, and coaching youth sports.
Georgia

- Supreme Court of Georgia
- Court of Appeals for Georgia
- Northern District of Georgia
- Middle District of Georgia
- Superior Courts
- Juvenile Courts
- Probate Courts
John Marshall Law School - Atlanta
JD, Law
2013

Emory University
Paralegal, Legal
2007

Harding University
BA, Human Resources
2004